Willow Pond Films is a New York-based film company headed by Peter Miller. Read more about them on their Redhare-designed website – willowpondfilms.com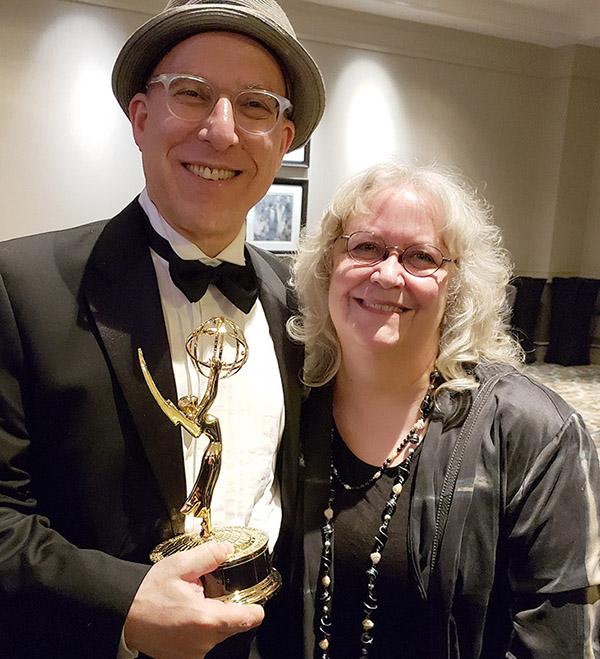 Peter Miller and Amy Linton after winning the Emmy for Robert Shaw: Man of Many Voices
I love films. I always have. I was raised in Hollywood, in the Los Feliz area. Long before much of the neighborhood was gated off, after school I would go on long walks, passing Cecil B. DeMille's house, and many other film stars and famous entertainers' places. We lived 2 blocks away from Ann and Jerry Stiller, who would always wave and say hello with a smile when I'd pass by. My dad was primarily a cop on the LAPD, but moonlighted, first as the technical advisor on "Adam 12" and "Dragnet," and later as a screenwriter. Pop wrote quite a few of the 'cop' shows in the 70s, like "Police Woman," "Police Story," and on into the 80s with "Simon and Simon" and "TJ Hooker." He wrote a few motion pictures, as well, including the cult favorite, "Vice Squad." So I often found myself, as a kid, on location, watching the magic made behind the camera. (To be honest, except for highlights like watching a car crash scene being filmed or getting to hang out with the stunning Angie Dickenson, it was often pretty damn boring! Sitting around for hours on end as they set up for scenes was never that thrilling to me.) But I've always still felt close to that world, even though I was a mere spectator.
As entertainment, I have always loved a wide variety of genres. Mob movies were always my favorite. And classics by Hitchcock or Orson Welles, of course. But as I got older, I more and more began to appreciate documentaries. By the time I reached my 50s, documentaries had become my favorite genre. I can't get enough! I am a big fan of Ken Burns and have seen all of his films, some more than once or twice! Having been a touring musician most of my life, I love well-made music documentaries – "It Might Get Loud," "Good Ol' Freda," "The Wrecking Crew," and so many more. Also, being a published songwriter myself, and having known and worked with legends such as Jack Segal ("When Sunny Gets Blue,") Johnny Mercer, and Dick Holler ("Abraham Martin and John,") I have a deep respect and abiding love for tunesmiths. In 2012, I was introduced to my dear friend Amy Linton, who invited me to a screening in Portland of a movie she had just edited for Peter Miller of Willow Pond Films called "A.K.A. Doc Pomus." Doc Pomus was a Tin Pan Alley songwriter who wrote some of the biggest hits in history, and was part of that brilliant era of writers who worked in the Brill Building in New York City, along with Carole King, Burt Bacharach,  Leiber & Stoller, Neil Diamond, and many more.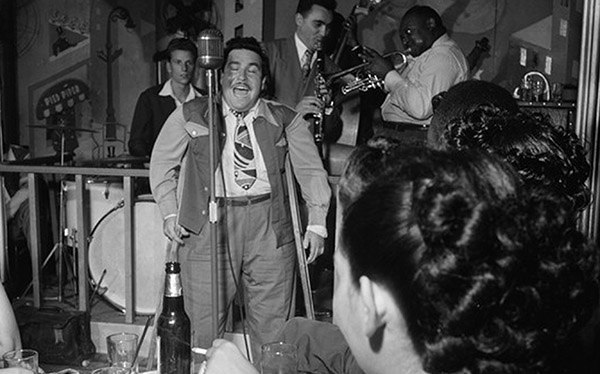 "Every day we squeezed into our respective cubby holes with just enough room for a piano, a bench, and maybe a chair for the lyricist if you were lucky. You'd sit there and write and you could hear someone in the next cubby hole composing a song exactly like yours. The pressure in the Brill Building was really terrific—because Donny (Kirshner) would play one songwriter against another. He'd say: "We need a new smash hit"—and we'd all go back and write a song and the next day we'd each audition for Bobby Vee's producer."
— Carole King, Quoted in The Sociology of Rock by Simon Frith
The movie was terrific! It went way beyond the flashy songs and cultural impact, into the essence of that world, and a man afflicted with polio's unstoppable talent and impact on all of those around him.
Shortly afterward, I was contacted by Peter Miller, who hired me to build a website for one of his latest films, "Sosua: Make a Better World," which is a compelling story of Jewish and Dominican teenagers in New York City's Washington Heights, who together with the legendary theater director, the late great Liz Swados, put on a musical about the Dominican rescue of 800 Jews from Hitler's Germany. This project also introduced me to another incredible friend, client, and fantastic filmmaker, Renee Silverman of Other Island Films. Renee would go on to hire me for her film, "Refugee Kids: One Small School Takes On the World," as well as her film company's official website. otherislandfilms.com. Redhare went on to design the DVD titles and DVD packaging for both films.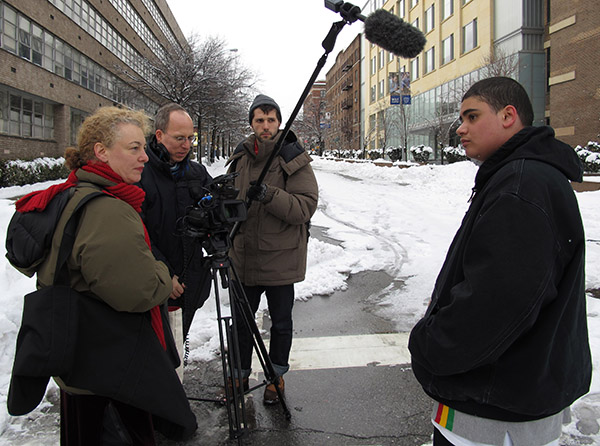 Filming Sosua: Make a Better World
Eventually, Peter hired me to build his Willow Pond Films website (willowpondfilms.com.) This was one of the most incredibly fun projects I've ever been a part of. Along the way, learning about and seeing some wildly important works Peter had made over the years was a rich benefit of a design job. Peter has been a producer on numerous documentaries by Ken Burns and Lynn Novick, including the PBS series THE War and Jazz, as well as the Peabody Award-winning Frank Lloyd Wright. He has served in producing roles on landmark documentaries including THE Uprising of '34, Passin' It On, the Academy Award-winning American Dream, and many other celebrated films. He works regularly as a script consultant, writer, and music supervisor. From his official bio:
Peter Miller is an Emmy and Peabody-award winning filmmaker whose documentaries have screened in cinemas and on television throughout the world. His films include A.K.A. Doc Pomus (about the legendary songwriter), Jews and Baseball: An American Love Story (narrated by Dustin Hoffman), and Sacco and Vanzetti (winner of the American Historical Association's best film award). With Carlos Sandoval, he made A Class Apart for PBS's American Experience, now being adapted as a feature film executive produced by Eva Longoria. His musical film The Internationale was short-listed for an Academy Award nomination. His documentary PROJECTIONS OF AMERICA, about a WWII propaganda film unit, was shown nationally on PBS stations, as were his two collaborations with filmmaker Renée Silverman, Sosua: Make a Better World and Refugee Kids: One Small School Takes On the World. Peter co-directed Robert Shaw: Man of Many Voices, about the celebrated conductor, winner of three Emmy Awards, for PBS American Masters. He co-wrote and produced Ken Rosenberg's Bedlam, about the crisis in care for the severely mentally ill, which premiered at the 2019 Sundance Film Festival. With his daughter Nora Claire Miller, he recently completed Egg Cream, a short film about the beloved chocolate soda drink.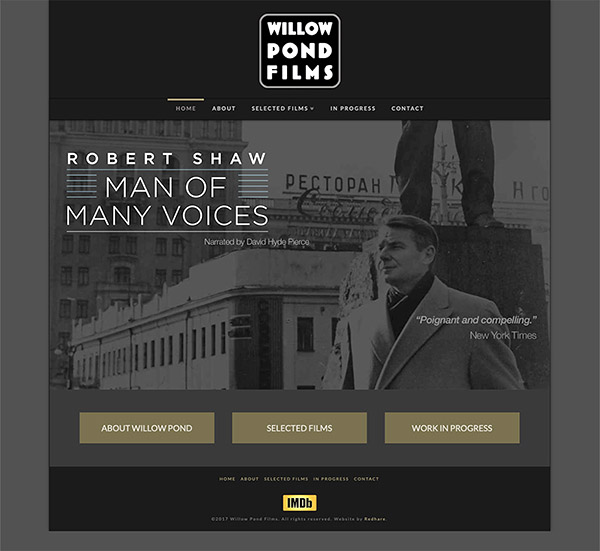 In 2014, I was in New York City for a week, and one of the highlights of that trip was finally meeting Peter face-to-face for the first time. A nicer person I have never met. We had lunch on the Upper Westside, and he turned me onto Zabar's for the best lox around. If only for that, I will forever be in his debt!
In a world of films costing 100s of millions to make, yielding box office takes of more than a billion, the are still people who care about things that affect us non-superheroes, like mental health, education for immigrants, stories of life as it really is that make a difference. I am honored to work with such a man, and lucky to be exposed to his incredible artistry.
Latest posts by Scott Docherty
(see all)