---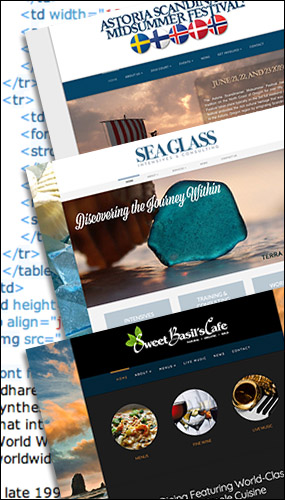 ---
---
---
I love building sites for small and medium size businesses and artists. Since I started, I've seen many fly-by-night operators come and go. Because of the newness of the Internet, many thought building a website was as easy as learning a bit of Dreamweaver or, more recently, simply going to template sites like Square Space. However, many of my clients have come to me after having been burned by shady designers or because it simply wan't as easy as it looked. The two choices for those getting started on the 'net, has been to either take their chances for very little money, or pay through the nose to hire a big web design firm. That's where I believe I've filled a great need. I provide the same first-rate, world-class results as the big city guys, but at a very reasonable price.
---
Click the following tabs to get a general idea of the cost of a new custom-designed website:
---
Basic five-page sites start at: $2000.00
I work with you at every step of development. If you already have a corporate image and branding, I can integrate your Web site to enhance whatever campaign you are engaged in. But if you are just starting out, I can also help you to design a logo and a look and feel that will best suit your company's image. Contact me with any questions you may have. I would be happy to arrange to meet for a free consultation, then get to work building you a new website.
---
There are many considerations that go into the price of a custom Web site, such as number and size of custom graphics, audio and video, premium plugins, interactive content ... and mostly, time. Here are a few of the features I offer to all Redhare clients.
---
---

---
Although I have hand-coded HTML sites for most of my career, I now build all of my sites on the Worpress platform. By using the premium X-Theme, along with the Cornerstone editor, I can build very high-end compelling and functional websites that allow me to optimize every site for a wide range of devices, from small cell phones to conference hall projectors. $79.00/one-time
---
---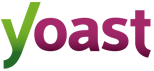 ---
SEO, or Search Engine Optimization, is a crucial element in the success of your website. There are billions of web pages competing for that first page of Google results. There are many factors, constantly changing, that factor into good search standing. Besides relevant content, proper key words, and general diligent attention to meta-data, and in addition to using Google Search Console, I use Yoast to help in fine-tuning your SEO to get the best possible results. $0.00 Premium version $89.00/year
---
---

---
Redhare recently invested in the developer version of  iThemes, which I think is the best protection available to combat hackers who exploit vulnerabilities inherent in Wordpress sites. Every site I build is hardened with several methods  of site defense, and is covered in the cost of Redhare hosting. $0.00
---
---

---
We gather access information about your site use in a couple ways. Hosting with us gives you access to AwStats, which gathers and refines raw data about your website's performance. We also either help you establish or integrate an existing Google Analytics account. This is free of charge and a powerful tool to help you understand your customers better. $0.00
---
---

---
Developer level  premium plugins for Smash Balloon Facebook, Instagram, YouTube, and Twitter feeds are available. Click the buttons below to see examples and see the Custom Facebook Feed in action in my News section. $59.00/year
---
---

---
Envira Gallery is an elegant premium plugin that allows unlimited photo albums with highly customizable lightbox features. I use this gallery plugin extensively on many of the sites I've designed, including here. You can see some examples on my Photography Portfolio, as well as throughout redhare.com. $69.00/year
---
---

---
I use the best available email form plugin around. Having the premium version allows for a huge range of possibilities, including Mail Chimp integration and Google reCaptcha for excellent spam protection. You can view an example on my Contact Us page. $39.00/year
---
---

---
Popup Builder Pro by Sygnoos is a very powerful tool that allows you to pop up ads, subscription forms, videos, and a number of other content.  It gives you nearly limitless control over how popups look and behave. You can see some examples throughout my Portfolios. $47.00/year
---
---

---
WooCommerce is my very favorite shopping cart system to develop with. The basic program is free, although the many available plugins and add-ons are where some costs come in. It's incredibly flexible and powerful, and able to tackle the most demanding e-commerce requirements. $54.00-$395.00/year
---
---
---
I offer the premium version of this super-useful plugin. All of my clients' sites are backed up before every update or new addition. The backups go securely through UpDraft Central on the Redhare Cloud server (redharecloud.com,) copies stored on Dropbox, and can be easily used to reverse a problem, or even simplify cloning and migration of your site to another host. $42.00/year
---
---

---
Once I've finished your site, I typically allow for a period of a month or so in which to find and correct typos, work any bugs out of the new system, and provide training in the basics, like how to blog, how to access and change text or photos, and getting your email squared away on you various devices.
After that, there will be occasions over time where you will want me to make changes - adding a new page changing out features, etc. In most cases, although your site is designed for you to be able to do much of the regular updating, it requires professional expertise to make graphic or structural changes. In those cases, or for whatever reason you would rather have me maintain your site, I charge $75.00/hour. Significant discounts can be arranged for monthly service plans, based on the amount of time needed.
I also build and maintain social media pages for some of my website design clients. I am willing to work with you and your budget to come up with affordable solutions to make your new web presence a success. $75.00-$500.00/month
---