---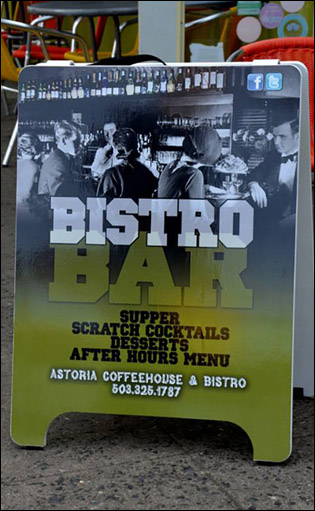 ---
---
---
I offer complete print design services, from concept to completion. Whether you want your well-established brand integrated into your business cards and letterhead, or are starting from scratch with a brand new graphic identity, I can help. I have done hundreds of promotional posters for various venues and artists, have created vinyl lettering for banners, signs and even boat transoms. I also create artwork of CDs and DVDs. I can set the design up for you to easily use with your favorite online printing service or can arrange for traditional printing and have the final product shipped directly to you. Check out my portfolio to see featured examples of my print work, outdoor sign designs, and advertising creative.
As with all of my services, I bring a wealth of experience and expertise to your project, but at a fraction of what it would cost by finding comparable work from a big design firm. I have a very low overhead, so I can save you money. Call me at at 503.616.6472 today or Email me, and let's discuss how Redhare can serve you!

---
---
A great logo can go a long way in identifying who you are. It is your first chance to impress people. It is the thing you want people to remember above all of your competitors. Conversely, a poorly designed logo can give people a negative view of you and your company or project that can last even after they've seen how great that product is! You want every advantage you can to let folks know you are serious and trustworthy. The right logo will do all that, and will hopefully pop into their minds when they are looking for what you offer - hopefully before someone else who offers the same thing.
When I design a logo, I am looking to acheive 3 objectives: First, to as closely as possible, communicate the heart of the person or company. Second, utilize whenever I can to make people think about what they are looking at (for example, "Redhare" makes you think not only of 'red hair', but all of rabbits. Then making the word "hare" red, and the word "red" white ...) That extra time spent processing the anomalies helps people to memorize your logo and hopefully remember you. Third, I attempt to communicate excellence and stability. All of this goes toward letting people know you are good at what you do, you are trustworthy, and you will be around for awhile!
Once we've established your logo, we can then set up norms for all of your other print materials so that everything works in conjunction with your logo. This is the beginning of branding. By defining a consistant style, you increase peoples ability to identify you through your communications, even at a glance. I can create all of these materials, or set up style guides for your art department or other vendors to follow to ensure a consistent presentation.
Click here to view our custom logo portfolio.
---
---
Service
Cost
Custom Logo Design
$500.00 - $2500.00
Business Card Design
$125.00*
Letterhead & Envelopes Design
$175.00*
Hourly Design / Consultation
$75.00/hour (Non-profits: $55.00/hour)
*Prices do not include printing costs.
---

---
---
I love making posters, postcards, rack cards, and brochures! I have done work in the past for music legends like Toto, Pat Benatar, Jefferson Airplane, and The Eagles, and more recently for local businesses and festivals like the Astoria Scandinavian Midsummer Festival. I would love to help your business to look as professional as possible by designing all of your promotional materials. See my Print Portfolio for examples of my work.
---
---
Product
Price
Poster - 11x17 color
$150.00
Flyer - 8.5x11 color
$125.00
Rack Card - 4x9 2-sided color
$175.00
Door Hangers - 4.25x11 2-sided color
$195.00
Postcard - color
$125.00 - 1-sided
$175.00 - 2-sided
Program - bi-fold (4 pages) color
$225.00 (additional pages: $75/each)
Brochure - bi-fold (4 panels) color
$225.00
Brochure - tri-fold (6 panels) color
$295.00
Print Advertising - color or b/w
$75.00 - Quarter page and smaller
$125.00 - Half-page and smaller
$175.00 - Three-Quarter page and smaller
$200.00 - Full page and smaller
Prices do not include printing costs.
---

---
---
I was raised in a time where album covers were some of the most important art in our lives! I have always been inspired by great cover artwork - Yes, King Crimson, Emerson Lake and Palmer - classic and iconic. I see CD artwork as an opportunity to, just like a great logo, emblazen a project onto the viewer's memory. I can certainly give your CD or DVD a distinctive and profession look that will get noticed - even on the messy desk of a disc jockey who has 20 unsolicited CDs visually vying for his attention! I've worked with all of the major CD makers - Oasis, Discmakers, CD Baby ... and although not as a designer, I DID work at Capitol Records in Hollywood as a young man! See some of my work on my portfolio.
The prices below are for the concept development, templating, color proofs, final artwork, and submission to the printer.
---
---
Product
Cost
Single Sleeve & Disc - 2-sided
$500.00
Digipack & Disc - 4-sided
$1350.00
Digipack & Disc - 6-sided
$1750.00
Lyrics/Liner Notes
$150.00 - 1 page 2 panels
$225.00 - 1 page 4 panels
$75.00 - each additional page (4 panels)
DVD Cover & Disc - 2-sided
$750.00
DVD Insert
$150.00 - 1 page 2 panels
$225.00 - 1 page 4 panels
$75.00 - each additional page (4 panels)
DVD On-Screen Menu
$750.00-$1500.00
Prices do not include printing, duplication, or manufacturing costs.
---

---
---
I design book covers, mainly for clients who are self-publishing, and want their work to look as good as anything you would find on the best-seller list. I wouldn't be surprised to see Oprah holding up one of my designs on TV!
I just finished a project where I helped my client all the way from final editing, to cover, to obtaining an ISBN number and bar code, and finally, publishing the final book. We used Lulu for pubishing and Publisher Services for the registration side. I only charge a small administrative fee to secure the ISBN, and will be happy to help you through the process. See some examples of my work on my portfolio.
---
---
Product
Cost
Paperback - 6x9 Front, Back, & Spine
$1200.00
Hardcover with Sleeve
$2500.00
Final Page Set-up
$450.00 Print only
$850.00 Prep for Kindle
ISBN and Barcode (Incl Kindle submission)
$129.00
(Significant discounts for multiples)
Prices do not include printing, duplication, or manufacturing costs.
---

---
---
One of the most gratifying things I do, is seeing a Redhare logo design make it onto the front of a business. Although I do love creating websites and print materials, like brochures, ads, and rack cards, it's especially great to see my work in 3D, out on the street for everyone to see! So I take great care in the details, to make sure each job is done precisely and with the best materials, so that sign lasts for years. It reflects on Redhare, but more importantly, it reflects on you, my client. First impressions are the most important, so the front of your business should tell people that you care about quality and style, whatever it is you offer at your place of business.
I will consult with you to make sure sure you are completely satisfied with your project at every step - from design, to construction, to installation. I manage the entire process, and bring in the very best contractors to build and install your signage. All of my sign work is done by Astoria master sign-maker, Red Dwarf Graphx, and I work directly with them to make sure everything comes in on time and on budget. Check out my work here on my portfolio.
Redhare can design any size sign you need, from simple vinyl signs to elaborate custom neon. Email me to make an appointment to discuss designing a sign for your business today!
---

---
Vinyl Banners & Lettering
---
Redhare designs vinyl banners for a variety of purposes. After re-designing the logo and branding for the oldest festival west of the Rockies, the Astoria Regatta, I spent five years creating all of the printed materials needed to make the festival a first-rate week of events each and every year from 2013 to 2018. I designed the float graphics, as well as all of the vinyl banners carried in not only the Regatta Grand Land Parade, but a number of parades all over the Northwest. I've also done banners and other promotional materials for local non-profit organizations like Jordan's Hope for Recovery, Riverfolk, Crisis Support Network, and other local businesses like the Astoria Riverwalk Inn.
Along with a great sign, I also design the perfect lettering for your front door or window. Your logo, phone number, hours of operation and/or any tag line you'd like to display can be tastefully and professionally done in vinyl lettering. Redhare can also brand your work truck, car, traler, or anything else you would like to display your logo, phone, and website address on. We can also design entire auto wraps.
You can see examples of the work I've done in my Portfolio.
---
---
Product
Cost
Small Banner - 36"x24"
$120.00
Medium Banner - 60"x24"
$195.00
Large Banners - 72"x36"
$250.00 Print only
Extra-Large Banners - Over 72"x36"
Email or Call for price
Vinyl Lettering - Installed
$125.00 per linear foot
Prices include design, material, printing, grommets, and local delivery/installation.
---

---
---
If you have a business on a busy street or are surrounded by a lot of other storefronts, it can be hard to stand out, especially to traffic whizzing by. An "A" board - or sandwich board - can offer some much needed visability. And having one that is professionally designed with your own particular branding can make all the difference. The two other considerations are: how will it hold up in windy, rainy weather, and how heavy is it to drag out to the sidewalk in the morning and back inside when you close. Redhare offers a few choices that will address your given needs. But in all cases, you will get a beautifully designed sign that will hold up through years of regular use. You can see some examples of the work I've done in my Portfolio.
---
---
Product
Cost
Folding Sign - Plastic w/ removable insert 25x45
$215.00
Folding Sign - Wood 25x45
$245.00
Charkboard Sign - wood 24x42
$230.00
Marker Board - wood 24x42
$215.00
Design Only (Use your own sign maker)
$195.00
Prices include design and finished product except as noted.
---

---
---
I have a good record helping folks get elected. I designed the websites and campaign materials that led to Astoria Mayor Bruce Jones winning his City Counsel position in 2016 and the mayor's race in 2018. I can help you, too! Besides an informative website, it's important to get your message out there in a concise and memorable way. A campaign that has a recognizable brand, that remains consistent across all visual media is essential. I have the experience and the  talent to help you win. Vote for me!
---
---
Product
Cost
Lawn Signs - 2-sided full color
100 12x18 = $498.00
100 18x24 = $648.00
Campaign Buttons - 2.25" Round
100 = $130.00
500 = $237.00
Door Hangers - 2-sided full color
500 = $665.00
1000 = $746.00
Postcards - 5x7 color and b/w
500 = $385.00
1000 = $429.00
Vinyl Lettering - Installed
$125.00 per linear foot
Prices include design, material, printing, and local delivery. Higher quantities available upon request.
---
See sections above for prices on vinyl banners, posters, and other materials.
---

---
---
I also create beautiful full-color secular and religious programs or mass cards to honor your loved one. I also create presentations using video, photos, and music for the funeral service. Click here to see some examples of my work. Call me at 503,616.6472 or Email me for a consultation.
---
Product
Cost
Program - 4 page bi-fold color
$200.00 for the first 100
$60 for each additional 100
Catholic Mass Cards
$150.00 for the first 100
$50.00 for each additional 100
Video Slide Show*
$250.00 Up to 5 minutes
$450.00 from 5 minutes to 10 minutes
*Includes photo scanning, music procurement, video editing, and delivery in .MOV format.
---
---
---
---
---
---
---
---
---
---
---
---
---
---
---
---