---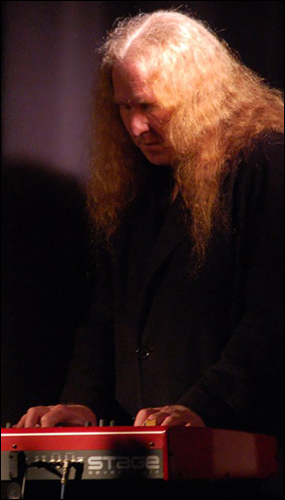 ---
---
---
I love to play music.
I have been doing it most of my life. I started out a singer/songwriter, and started performing professionally at age 15. And although I still write and occassionally perform in front of live audiences, my real love and passion is for supporting others as a sideman. I enjoy being able to bring my heart and chops to hopefully enhance other artists' original performances. I have played Frankenstein with Edgar Winter, Hanging by a Moment with Lifehouse and Hey Jack Kerouak with original members of 10,000 Maniacs, not to mention a host of other great artists, known and unknown, through the years.
I am primarily a power pop and rock player, but have enough groove to play funk and gospel, and since I moved to the Pacific Northwest, play quite a bit of folk and Americana. Although I love it greatly, I have little experience with straight ahead jazz or classical, but can perform at a world-class level on almost any other style of music.
My main instrument is the Hammond B3. It is, in my opinion, the greatest rock instrument ever created! I come alive behind the mighty B like at no other time. I no longer own one - my last C3 was given up once I was able to live with a suitable, more portable instrument. I now play a Nord Stage and Korg CX3 through a Motion Sound amp and it does the trick for most small settings. On bigger shows, when nothing but the real thing will suffice, I rent. Additionally, I play piano and can cover a wide array of synth leads and textures. I also sing very well. I have good pitch and feel and am well suited for a large range of background vocals. In a pinch, I play a solid rhythm guitar and in extreme emergencies, can cover on the drums. Tuba? Don't push it. (But I know a guy...)
---

---
---
I have a unique stage presence. Many have likened me to the Muppet, Animal, for the way I flail when moved. At the end of any great rock performance, I judge the level of intensity, not by the audience's response, but by whether I have whiplash and bloody cuticles!
I not only have extensive stage experience, but have spent hundreds of hours in the studio. I have worked in great studios like ABC, Village Recorder, and Capitol, with music legends like Jay Graydon, Ron Aniello and Kin Vasey.
I am extremely reliable, always early for load-in, usually happy to help with the P.A. or the drums, and have been clean and sober for nearly thirteen years. I have put in my ten-thousand hours of practice, and then some. I want to play. Hire me.
---

---
---
Local Gigs: I am available, with resonable notice, for gigs within 100 miles of Astoria, Oregon, including Portland and Vancouver, Washington.
Touring Gigs: I am available for a national touring act, including North America, as well as international touring opportunities.
Recording: I am available for recording at any level. I am willing to travel if the need and the budget are there. I am able to do much recording from my own studio in Hammond, Oregon. I work in Studio Logic Pro and can receive and send large audio files via Dropbox.
Sound Consulting: I have extensive knowledge about live sound applications for small to medium sized venues and churches, and recording studio design. You can contact me for a consultation.
My rates are available on request. Please feel free to Email me for that or any other questions you might have.
---

---