---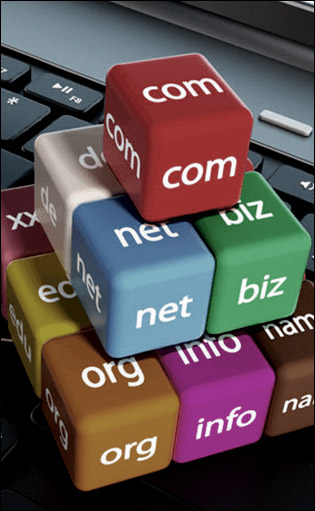 ---
---
---
The first step toward building your new Web site is choosing and securing a domain name. A domain name is the address of your website, www.redhare.com or redhare.com. When you register through Redhare, I handle the registration process at no extra charge, and bill you along with your Web Hosting annually. The standard extensions, (.com, .org, and .net) cost between $9.13- $13.16/year. I also offer a variety of other extensions which are listed below.
You can have as many domain names as you want. You don't have to have a different website or hosting account. You can simply "park" your additional domain(s) and do nothing, or you can point it to an existing site at a different address, and/or use it just for a different email address. See plans and details below.
Redhare uses GKG.net exclusively for all domain registrations. They have always been a reliable and affordable registrar. If you are paying more for the more 'famous' registrars, then I encourage you to allow me to transfer your domain registration at no charge.
---
The cost of annual domain registration cost varies depending on the extension (or "TLD") you choose. The most popular, and the most recognizable is, of course, .com. After that are .org and .net. But there are now a number of new extensions you can choose from. For convenience, I've included the $0.18 ICANN fee required on most domain registrations.
---
Domain
Cost
Domain
Cost
.com
10.85
.mobi
16.32
.net
12.85
.name
9.17
.org
12.85
.organic
60.17
.biz
14.25
.pet
23.25
.info
14.25
.pink
15.25
.us
12.85
.poker
35.25
.ac
59.85
.pro
16.25
.bet
23.25
.promo
16.25
.bio
68.50
.red
16.50
.black
46.25
.sh
60.25
.blue
15.25
.shiksa
15.25
.boats
145.13
.ski
48.25
.cc
15.25
.top
8.75
.green
62.25
.tv
36.25
.io
61.25
.vote
67.25
.kim
15.25
.voto
67.25
*Includes ICANN fee of 18 cents per domain name year
---
Prices from GKG.net as of February 2020. Subject to change.
---
---
Click the following tabs to see the two domain parking options available to you if your domain is registered with GKG.net through Redhare.
---
5 email aliases
1 Coming Soon page - or -
1 Forwarder
Available on all GKG.net domain registrations for FREE.
---
---
---
Please note: Redhare is NOT an authorized domain registrar. I offer this registration service as a convenience to my Website Design and Web Hosting clients only. I use GKG.net for all of my domain registrations, and have for about 20 years now. As a Redhare client, you are free to register your domain name yourself at GKG, or any other authorized domain registrar. Either way, your domain name is YOURS, even if you leave Redhare. Your domain name remains with you as long as you keep it current. And if you should lapse in payment, GKG charges an $80.00 re-connect fee.
---